Extensively Tested to be Fully Functional
Good Cosmetic Condition with only minor signs of wear from normal use.
Includes Apple Charger and Cable
Wiped clean and ready to activate with designated carrier.
Genuine made by Apple
Feel free to check out our competition, we're not afraid!
When the iPhone 4 was released, it sported a major design change from the iPhone 3G and 3GS.  Apple gave it a glass front and back, with a metal band around the edges.  In addition to the design change, the iPhone 4 of course came with a speedier processor, better camera, and many more features.  It was a significant turning point in Apple's famous iPhone.  If you don't care about the new design so much and don't mind a little slower speed, consider the more affordable iPhone 3GS.  If you like the new glass and metal design but want even more speed and the popular Siri, maybe consider upgrading to the iPhone 4S.
Out of stock? Email me when it's back!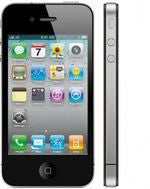 Checkout with Amazon
Why buy your Apple iPhone 4 from us?
Rest assured, when you purchase an Apple iPhone 4 from us, it has been extensively tested and wiped to factory settings by our professionally trained team. All Apple iPhone 4's are ready to be activated and used right away, hassle-free! Don't get burned buying a used Apple iPhone 4 from other random internet sellers and online auctions, and relieve the stress and danger of meeting strangers in parking lots. All in all, stay safe, remove the hassle, buy from us. Feel free to check out what others are saying!
Gadget Chest is your go-to store for buy used cell phones, used iphones, and more. If we are out of stock for the cell phone you are looking for, we will happily point you in the right direction to buy your next used iPhone, cell phone, and more. Always make sure you are buying your next used phone from a reputable source. Also, double check the phone you are purchasing is meant for the cellular carrier you would like to use it on. Unfortunately, all cell phones and iPhones cannot be used on all of the cellular network. For example, you cannot use a Sprint iPhone on the Verizon network. It is also important to assure your new cell phone or iPhone is not stolen, or the original owner still owes money for the phone. You can contact the carrier for the device with its IMEI or MEID number to check its status.